(ANNews) – The evocative image on the cover of this month's Alberta Native News is "Mixed Blood Joe" by the very talented contemporary artist George Littlechild. It is currently on display until April 29, 2018 at the Gallery@501 in Sherwood Park as part of a very powerful and thought-provoking exhibit entitled "The Art of Truth and Reconciliation."
Gallery@501 is located at #120 501 Festival Avenue in Sherwood Park. For more information call 780-410-8585 or visit strathcona.ca/gallery501.
George Littlechild is one of Canada's most accomplished artists, known for the masterful way that he marries bold colours with strong images and serious themes involving Indigenous rights and social justice.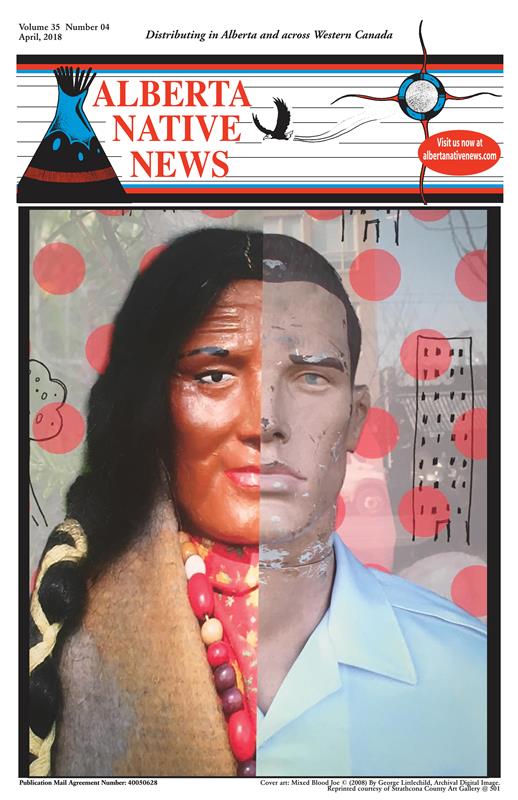 Through his art-practice, George discusses identity displacement and cultural genocide from his own personal experience. He was part of a large-scale scoop where Aboriginal children were taken from their home communities and placed into white adoptive or foster families in the 1950s and '60s.
It wasn't until George was in his twenties that he reconnected with the Maskwacis community where his birth family were from and met aunts, uncles, and siblings he never knew he had. Unfortunately, George's birth parents had passed away before he had a chance to meet them. George's mother had attended a residential school, as did both his Grandparents. George delivers his work to audiences to create a dialogue between both the Aboriginal communities and the Colonial communities as a method of healing through shared experience.
"The Art of Truth and Reconciliation" is a very special exhibit now on display at Gallery@501 in Sherwood Park. The exhibit opened with a prayer by Elder Wilson Bearhead on March 9. The students at Pine Street Elementary School, under the guidance of Elder Wilson Bearhead, performed a smudging ceremony as well as traditional drumming and an original song written in keeping with First Nations tradition of storytelling through music. George Littlechild was Artist in Residence at Pine Street Elementary the week following the opening of his exhibition. George facilitated workshops at the school and guided the students in creating an artwork themed in "social justice" as a part of the 'Project of Heart', a Canada wide program directed at teaching students about the Indian Residential Schools and their effects on children, families and communities.
"We are honoured to have an exhibition of this caliber at our Gallery, featuring the art of George Littlechild and the important theme of truth and reconciliation," said curator Brenda Barry-Byrne.
"This exhibition marks an important new direction for Gallery@501. Moving forward we will present an annual exhibition in partnership with indigenous people and in acknowledgement of the Treaty 6 land that we share with the Cree and Métis people."
"Gallery@501 acknowledges and thanks the Edmonton Community Foundation for their support of this exhibit and Artist in Residence program with Pine Street Elementary School. We would also like to thank Strathcona County for their continued support and the Festival Place Cultural Arts Foundation for their ongoing support of our art education programs. A special thank you also goes out to Elder Wilson Bearhead for his direction and guidance."
Gallery@501 is located at #120 501 Festival Avenue in Sherwood Park, AB. For more information call 780-410-8585 or visit strathcona.ca/artgallery.