By David Coll
(Calgary) – Enbridge's first Indigenous Reconciliation Action Plan has articulated 22 measurable and publicly reportable commitments.
With energy pipelines and infrastructure that spans North America, Enbridge regularly engages with hundreds of Indigenous Nations, Governments, Groups, Treaty Organizations and federally recognized Native American Tribes across North America.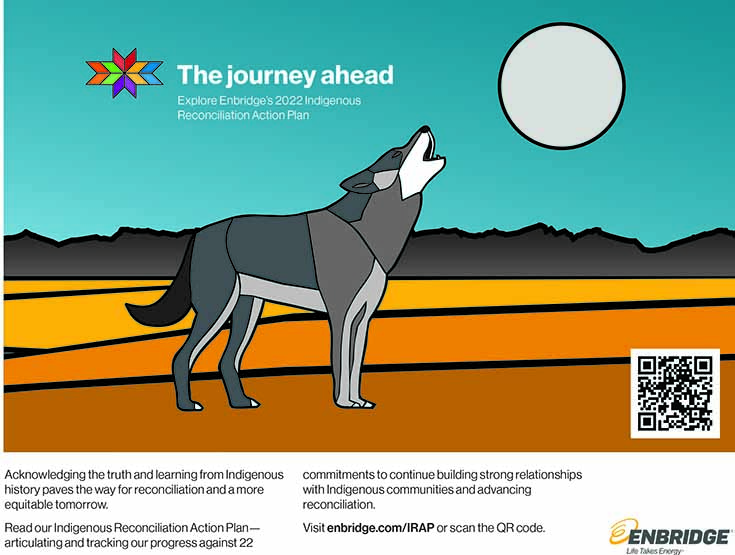 "We recognize that Indigenous people across North America have been systemically excluded from the social and economic landscape," says Kim Brenneis, Director of Community & Indigenous Engagement for Enbridge in Canada. "Acknowledging this truth — and pledging to address it with concrete action – are the first steps toward reconciliation between Indigenous peoples and broader society."
Over the past several years, Enbridge has been on its own reconciliation journey that continues to guide its approach to Indigenous engagement, relationship-building and inclusion.
"We've worked hard to build and maintain respectful relationships, to maximize economic inclusion, and to meaningfully engage Indigenous Nations, Tribes, governments and groups over the full lifecycle of our energy assets – not just when we have a project to build," Brenneis explains. "But until recently, we had not fully articulated or shared a set of formal commitments to Indigenous groups."
That all changed in September 2022 with the release of Enbridge's first Indigenous Reconciliation Action Plan (IRAP). One of the first such plans to focus on reconciliation from a North American perspective, the IRAP articulates 22 tangible, measurable and publicly reportable commitments that support Enbridge's transition towards a cleaner energy future – in partnership and collaboration with Indigenous peoples.
Examples of some IRAP commitments include:
Increasing Indigenous representation in Enbridge's workforce;
providing more opportunities for Indigenous economic participation such as procurement and financial partnerships;
continuing to advance Indigenous inclusion in environmental fieldwork; and,
establishing an Indigenous Advisory Group reporting to senior management.
"The IRAP is a key next step for us," Brenneis says, "because we now have a mechanism to gauge our progress as we continue to evolve and remain accountable for executing on our commitments to Indigenous peoples."
The 22 commitments are organized into six categories, or "pillars," that include:
Early input and insights from 50 individuals from Indigenous groups in Canada and the U.S. helped form the basis of the Enbridge plan, Brenneis says, adding that it was also developed in recognition of Indigenous rights and title, treaties, and sovereignty, the United Nations Declaration on the Rights of Indigenous Peoples and the Canadian Truth and Reconciliation Commission's Call to Action #92.
The IRAP covers the 2022-2023 timeframe and will be reported on annually in Enbridge sustainability reports. Future IRAPs will be published every two years, the next in 2024.
 David Coll is the Senior Communications Advisor at ENBRIDGE INC.