by John Copley
(ANNews) – On February 8, 2017 Business Link's Aboriginal Business Development Services (ABDS) hosted a special screening of Elder in the Making, a feature documentary that allows viewers to explore the tragic and hopeful history of the Blackfoot people. Through the journey of two unlikely travel companions, this educational and beautifully choreographed film uncovers the truth and delivers a message about the importance of maintaining the land, the water and the air.
Elder in the Making is one of the most interesting, educational, well-written and narrated films I have ever been privileged to watch. This must-see film was produced, directed and narrated by Calgary filmmaker Chris Hsiung, along with co-producer Cowboy Smithx. It was inspired by the work of the Making Treaty 7 Cultural Society, who in 2014 produced the acclaimed film, Making of Treaty 7, and it is more than a subtle hint of what lays ahead if humanity continues on its current path.
Elder in the Making in an inspirational piece of work that brings particular focus to the Blackfoot people of southern Alberta, their culture, their history, their current lives, and their vision of the future. The 95-minute documentary, delivered by Hsiung, a soft-spoken and respectful speaker who doesn't mince words is a film about southern Alberta's Indigenous peoples, the trials and tribulations of the Blackfoot people and importantly, the celebrations they've faced over the past two centuries as they continue to make their way into the future.
Elder in the Making isn't the first collaboration for Hsiung and Cowboy Smithx; they've worked together on several projects, including Redx Talks, an Indigenous speaker series that premiered at Mount Royal University in the fall of 2015.
Hsiung said he's learned a great deal about the history of southern Alberta's First Nation communities over the past few years while hosting workshops on the Stoney-Nakoda Nation, providing technical input with Redx and during his ongoing travels and talks with the Blackfoot people while filming Elder in the Making.
That knowledge is evident as he traverses the film in conversations with numerous well-spoken Elders, community members and others who are playing a role in watching over and maintaining the land in meaningful and respectful ways.
Hsiung likens the experiences of the Blackfoot to that of his own family in that "we both have to navigate two cultures and two languages," and both have faced racism and uncertainty as they've made their way through life. Hsiung is the 23rd generation of the Hsiung family, a family that originally made its way from China to Taiwan before eventually settling in southern Alberta. Smithx is a Blackfoot Albertan whose ancestors signed treaties and honoured agreements while Canadian governments did what they could to undermine those agreements. Hsiung refers to Smithx as being a "foreigner in his own land."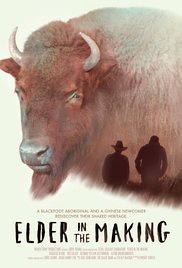 Elder in the Making is a walk-through history, complete with illustrations, diagrams, explanations and conversations with an array of people, some whom have passed on to the spirit world since their involvement in the film. Elder in the Making is dedicated "in loving memory" to those people and includes Elder Narcisse Blood, Michale Green, Michele Sereda and Lacy Morin-Desjarlais.
Viewers of this film will be enthralled and impressed by the words and actions of these participants and many others, including buffalo expert Wes Olson, archaeologist Davide Walde, grandfather and Elder Floyd Smith, youth worker Jason Plain Eagle, interpreter and guide Shanna Goodstriker, Leroy Little Bear, Kris Demeanor, cultural curator Herman Yellow Old Woman and many others
Elder in the Making is a film that immerses its viewers into the past and delivers an important story of how a foreign culture launched itself onto a land that was already organized and populated by millions of Indigenous peoples who for the most part lived in harmony and mutual understanding. The film delves into the treaties that were signed in good faith by Indigenous leaders and gives viewers a look at how, over a few decades, everything fell into disarray. Promises made by governments were broken. The buffalo were slaughtered, their hides shipped overseas for the leather needed to turn the engines of the Industrial Age. Diseases such as measles, smallpox and mumps were deliberately introduced into the Indigenous populations. In all, more than 90 percent of North America's Indigenous populations were extinguished by these actions.
The film winds its way through time, often going back into the past to better explain both the present and the future.
Many new laws, brought on by the many changes in government leaders, didn't bode well for the Blackfoot or for any other Indigenous person living within the borders of Canada. When the Indian Act was established in Ottawa, it gave government extraordinary powers and complete reign over the Indigenous people it purported to represent and protect. It was part of a growing desire to assimilate the country 's First Peoples. It was developed a year before the treaties were signed and that in itself is a sign that the government had no intention of honouring treaties. Then just a short time later, in 1879, Prime Minister John MacDonald approved the building of Indian Residential Schools and ordered children to be forcefully removed from their homes so they could become "civilized." The children were forbidden to speak their own languages, share space with their brothers or sisters, and were most often treated badly and beaten, usually for the smallest of reasons.
That, along with the banning of potlaches, powwows, Sun Dances, and many other ceremonial activities that define a people and their cultures, created a genocidal catastrophe that still impacts individuals, families and communities – and will continue to do so for many years to come.
Elder in the Making doesn't harshly criticize or lay blame, but instead it appeals to the sensitive side of mankind, that must eventually show itself in meaningful ways if the world, as we know it today, is to succeed long into the future.
The film isn't about the development of an Indigenous Elder, though because of their work and their growing understanding of what it really means to be an Elder, both Chris and Cowboy will no doubt soon be considered as such.
The film is actually a wake-up call, a plea for government and industry leaders to leave their perches of dominance, wealth and greed and get more in touch with those who depend on the environment and its entities – water, air and earth – for survival. It is a plea for sensitivity, logic and reason; it is a unique and in-depth look at what every Canadian would see if they opened their eyes, cleared their minds and for just one moment, put themselves into another's shoes.
Indigenous peoples have lived in North America, i.e. Turtle Island, for well over 5,000 years. No amount of persecution, ill-doing or acts of racism and genocide have ended their existence. After delivering a very moving story about the St. Mary's Indian Residential School, built in 1924 and now known as Red Crow Community College, Elder Narcisse Blood noted that "we can snub our nose and say: you did not succeed in destroying us."
Many changes are taking place in Canada today when it comes to establishing programs and initiatives that can help Indigenous peoples recover from more than 150 years of marginalization and maltreatment. But still, it seems, there remains a desire by some to relegate and assimilate Indigenous peoples into western European culture. To come full circle, to achieve the goals of what so many worthy but sidelined, or shelved recommendations have already suggested, change in attitudes is prerequisite. That change will come in time, but progress could be so much quicker if the Canadian school books are rewritten to include the truthful history of Indigenous peoples, if school children are taught to embrace their neighbours and accept everyone as equals, if every school curriculum is revised to include and embrace Indigenous Studies.
That change can come for you – just watch the film, Elder in the Making – and do so with an open mind.
Aboriginal Business Development Services is also screening the film in Calgary in partnership with Community Futures Treaty 7 (CFT7) on March 1 from 12 noon -5 pm at the Cardel Theatre (180 Quarry Park Blvd, Calgary).
Founded in 1996 ABDS is a non-profit organization that helps people start businesses in Alberta. The organization provides one-on-one support and guidance, market research, access to experts, training, networking opportunities and specialized support for Aboriginal entrepreneurs.