Edmonton Catholic Schools (ECS) represents more than 85 elementary and junior/senior high schools in the region, five of which offer Nehiyaw Pimatisiwin, a Cree Language and Cultural Program that provides students with an opportunity to learn and use language in meaningful and purposeful ways.
"The program," explained ECS Manager of Media and Community Relations Services, Lori Nagy, "explores language as a primary means by which cultural information is transmitted; culture influences linguistic form and content. Students participate in ceremonies which provide valuable insights and teachings about the interconnectedness of all things which gives balance to life; living in harmony with oneself, others and the global community."
Like every student in the province, all ECS students receive instructions as prescribed by Alberta Education.
"In addition," explained Nagy, "the delivery of subject-area content, language instruction and cultural information occurs at the same time and promotes effective language acquisition. As well, the achievement in the skill areas of listening, speaking, reading, writing, viewing and representing contributes to the development of effective global citizenship."
Nagy noted that the first Cree Language and Cultural Program was launched at the Ben Calf Robe Elementary/Junior High School in 1981. St. Francis of Assisi Elementary School became the second school to host the program; Our Lady Of Peace Elementary School and St. Joseph High School followed. The newest program, which is designed for Grade 7 students, gets underway next month when St. Thomas More Junior High School becomes the fifth school to offer the culturally-based program. The new school is located in northeast Edmonton at 96 Street and 165 Avenue.
What type of information and initiatives make up the Cree language and cultural programs?
"As we learned through the Truth and Reconciliation conference," explained Nagy, "it is important for our students and their families to maintain their identity and connect with their culture.  In many ways, we are restoring the Cree language and culture of many of our Aboriginal families, from the practise of daily smudging to sacred teachings, to using the Cree language throughout the day including daily morning assemblies, where all students sing O Canada in Cree and offer our prayers with some Cree elements. Ben Calf Robe also has a strong partnership with Sacred Heart Church of the First Peoples and wants their students to recognize that their spiritual beliefs and Catholic teachings are very compatible.  We use the word 'Creator' instead of 'God' and we recognize the medicine wheel as a foundation for teaching about how we need to work together."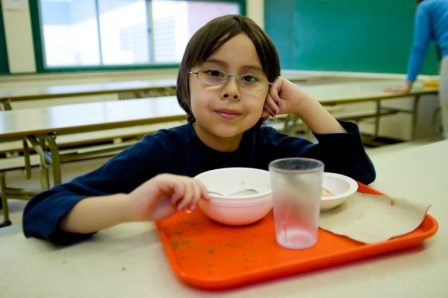 Specific cultural program materials and activities include beading, regalia  making, powwow dancing, powwow drumming and Métis fiddling.
"There is also a Rites of Passage Camp," noted Nagy, "that features students  designing and creating their own moccasins (which they put on at their  farewell celebration); and woodworking (students create traditional items  such as medicine boxes). Foods and Fashion, which includes the fine art of  bannock making is another way the students are able to share their culture.
"The schools offering the program also invite special guests and Elders to    visit throughout the year and they provide activities and entertainment,  including such things as hoop dancing and storytelling.
In addition, all schools with the program include the Aboriginal Elders Council in numerous activities throughout the year.
"The program is not just important for our students and their families, but each year, more staff learn about traditional teachings, the effects of residential schools and the difference between the culture of poverty and Cree culture which always makes them strong advocates for restoring potentially lost cultural teachings," added Nagy. "We strive to hire as many First Nations and Métis staff as possible, although it can be difficult to get a large number of applicants that have an FNMI background."
More than 570 students are enrolled in the Nehiyaw Pimatisiwin Program.
"We are quite proud to note that Ben Calf Robe School has gone from an enrolment of just 150 students in September 2010 to more than 350 students projected for September 2014. We also offer the only Aboriginal Voices program for three and four year olds in our district."
The biggest increase in the numbers of students is in the primary grades.
Elders have always played an integral role when it comes to educating and sharing cultural and traditional values with youth, something that ECS maintains through its Aboriginal Elders Council.
"Elder input is important," agreed Nagy,  "so important in fact that every school that hosts the Nehiyaw Pimatisiwin program works with the Elder's Council, whose members participate in various activities throughout the school year."
Betty Lafferty is a well known and respected Aboriginal Elder who has been working with Edmonton Catholic Schools since 2004. She is a member of the school district's Aboriginal Elder's Council and is currently part of the schools system's Aboriginal Learning Services division. During a recent interview she lauded the Elders involved in helping to make a difference in their communities, schools and councils and gave credit to Catholic School Board Superintendent Joan Carr for "the extraordinary efforts" she has made since assuming her position in 2007.
"The Elders Council exists today," noted the 67 year old Elder who works within the schools' Learning Services-Enhancement division at 108 Street and 96 Avenue, "because of her terms of reference as Elders being utilized as a special committee to the Board."
Elders are an important element of the learning process, which Lafferty says is mostly due to the "knowledge they possess, the wisdom they have gained through their life's experiences and the fact that they have overcome many obstacles ."
Elder Lafferty has shared her culture and in turn has learned about other cultural groups in and around Edmonton for many years. She particularly enjoys working with teachers, noting that "they are in the learning profession and thus are always learning about something new and to many, Aboriginal culture and awareness is something new. We all have the ability to share our knowledge and to grasp new ideas and new concepts; teachers are among the fastest learners."
Ben Calf Robe Principal Emilie DeCorby recently noted that she was very pleased and very excited to be welcoming Elder Lafferty into the school. She said, "Her regular support and guidance as well as her physical presence will strengthen our community."
Just days before this newspaper went to print more than 1200 students, most of whom are involved in the English as a Second Language (ESL) program, returned to school.
"On August 11," explained Nagy, "a total of 1,217 students returned to the three schools in our District that offer a year round calendar! The ESL program is offered at Mother Teresa Elementary, St. Catherine Elementary/Junior High and St. Alphonsus Elementary/Junior High. The three schools offering the year round calendar balance their instructional days into four terms with vacation breaks between each of the terms.  The three schools offer a five week summer break with students returning to school in early August – a two week Fall Break in the middle of October – a two week Christmas break that is the same as the rest of the schools – and a two week Spring Break in March.  There are also two other days in the school year that are taken as extra-long long weekends and these vary year to year."
The number of instructional days for students is exactly the same for both the year round calendar and the traditional calendar. Year round schooling gives parents in Edmonton Catholic Schools another choice for their children's education and reduces the concern of learning loss over a longer summer break.
For more information about Edmonton Catholic Schools, see the website at: www.ecsd.net.
 by John Copley