VANCOUVER, June 2, 2015 /CNW/ – Over the last weekend approximately 200 representatives from over 30 key First Nations and over 50 traditional houses said "Yes" to partnering with Eagle Spirit Energy on a proposed upgraded oil pipeline from Fort McMurray, Alberta to B.C. tide water.
Attendees at the event represented elected officials, hereditary leaders, elders and youth from along a proposed pipeline route. After a day of presentations from top global environmental, pipeline and energy experts, participants heard from key leaders and Chiefs as to why they were supporting Eagle Spirit's proposal. The event wound up with signing of a memorandum of understanding to traditional drumming and singing which only served to underline the strength of support for the proposal.
Grand Chief of Treaty 8 First Nations of Alberta Steve Courtoreille (of the Mikisew Cree First Nation) said, "Eagle Spirit has put forward one of the best project proposals we have seen in terms of protecting the environment and involving First Nations as partners from the beginning." Chief Jim Boucher, an event keynote speaker (whose Fort McKay First Nation generates revenues approaching $1B annually), commented, "There are challenges to working with big industry. The environment always comes first but there are ways to constructively work together to maximize revenue, education, training, business, and employment opportunities."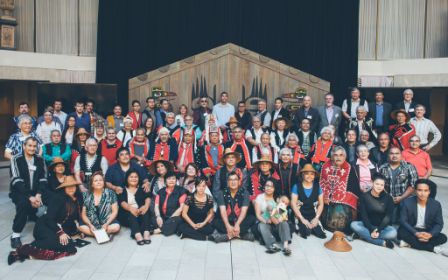 The Eagle Spirit proposal is the culmination of almost three years of listening to First Nations. It is based on the concerns expressed by First Nations in countless meetings across northern B.C. Most of the communities attending the event have already signed Exclusivity and Benefits Agreement with Eagle Spirit which are not final agreements but another step in the process of continuing to work with Eagle Spirit towards final agreements in developing the project as true partners.
Dinimget (Chief Art Mathews), a hereditary leader from the large Gitxsan Nation delegation asked, "How are we leading our people if bitumen is being shipped through our communities by rail? The railway cuts our community in half and we do not want the danger that represents to our people. Every week there is news of another derailment—even if a derailment does not occur in our community it endangers the Skeena River or could cause a massive forest fire."
Chief Donny Van Somer of the Kwadacha Nation added, "There is no question that shipping an upgraded form of crude oil by a pipeline where First Nations have oversight over the environment through Eagle Spirit's Chief's Council will provide the best protection to traditional territories."
A very large delegation of representatives attended from the community of Lax Kw'alaams. Lax Kw'alaams is a key to the proposal because it could host the port near it at Grassy Point. Grassy Point, due to its close proximity to open water, is considered the safest location for such a port since oil tankers are only a threat to the environment when they are close to land. Key representatives from the nine tribes of Lax Kw'alaams and elected councilors participated.
From the Lax Kw'alaams delegation three spokespersons were nominated to speak on behalf of the others. Gitxoon (Alex Campbell) was requested to speak for the nine tribes and stated, "Eagle Spirit has met with and informed our community members what they were proposing from day one. They have shown great respect for our culture and protocols by coming to us from the very beginning, and really listening to our concerns. We do not like big companies coming in and giving us take-it-or-leave-it ultimatums in our traditional territories which we have looked after for over 10,000 years."
Ski-las (Jack White) who represented the elders commented, "We like the fact that the Eagle Spirit project put the environment first. Many of our elders are in need and we want our legacy to our children to offer something more that gives them opportunities." Youth representative Corey Wesley noted that "There are no opportunities for young people in our community. We want a better way of life with real jobs and business prospects so we too can offer our future kids more hope." Elected councilor and matriarch Mn'gadn wii hayetsk (Helen Johnson) said, "Eagle Spirit has widespread support in our community because it shows a real way forward for our members."
Calvin Helin, Chairman and President of Eagle Spirit said, "It has taken a lot of listening and effort to reach this point. The signing of the Memorandum of Understanding represents a significant milestone for the project but we realize it is really a first step. Much more community work has to be done and we are very grateful for powerful and kind support that First Nations have shown for our project to date."