by John Copley
(ANNews) – Last month we reported that the 2016 Métis Spring Festival scheduled to take place in St. Albert had been cancelled due to financial and economic reasons. But thanks to an enthusiastic community those plans have been reversed and the annual event will indeed take place at Servus Place in St. Albert on May 21 and 22. Jigging, fiddling competitions and square dance performances will start at 1 pm on Saturday May 21st  with a vocal talent show at 7:30 pm the same evening.
In last month's article I mentioned that the two-day gala costs would be in the neighbourhood of $60,000 – that was an error because that was the cost to host the event for two years, not one.
"When we initially cancelled the event it was primarily because the costs to host the festival over the last two years was in the neighbourhood of $60,000. We feel that cost-sharing and partnering with other organizations would reduce the cost of the event. Although this is an expensive project, my thoughts are that the contestants, performers and musicians are worth the money. We keep the admission to a minimum to recapture some expenses but yet at the same time the admission is reasonable," explained Metis Spring Festival organizer, Florence Gaucher.
There are no charges to the contestants for entering the competition; they pay the admission only.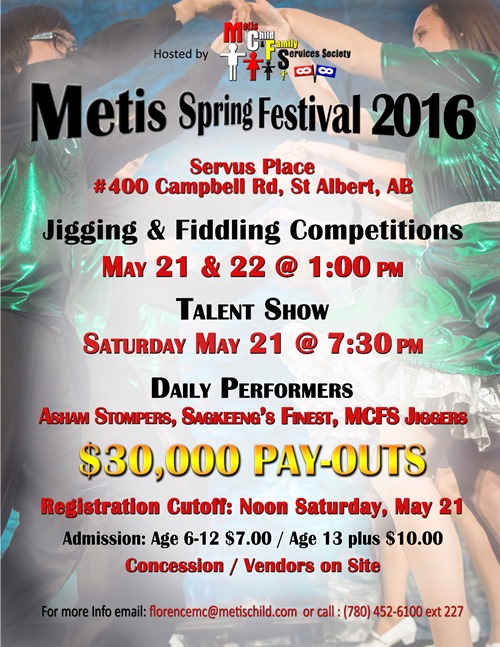 "When word got out that we'd made a decision to cancel for 2016 we were overwhelmed with phone calls, visits and emails from people who were disappointed," added Gaucher.  "The annual festival is a community-driven event and as such we need the support financially and in other ways. I am optimistic that we will receive some monetary support from some organizations throughout the Province who wish to participate in a unique and important annual event."
Métis Child and Family Services felt the need to carry on the annual festival from Poundmaker's Lodge and Treatment Centres when their funding for cultural events was terminated two years ago. Since its inception in 2009 the annual festival has attracted fiddlers, jiggers, dancers, musicians and other entertainers from out of Province and supported by many local spectators from the greater Edmonton region . Once held in St. Albert's Kinsmen Corral, the event, which includes jigging and fiddling competitions, daily performances by professional artists and an array of other festival activities for both young and old, has been held in the popular Servus Place venue in St Albert for the past six years.
Métis Children's Service Executive Director Don Langford said that he was going to get the word out and hopefully receive a positive response from the community; Gaucher said she hoped social media would get the ball rolling for some added support – they both got their wish.
"We put the call out and the community responded," smiled Gaucher in an interview. "We were quite surprised by the response but as a result, the show will go on. We have some offers of support, including the musicians that are coming this year; they have graciously reduced their professional fees. We've also heard from many individuals who would like to volunteer to ensure the annual event goes on. The community feels that is one of the most important elements of any gathering. We are all very delighted with the response. Social media made a big difference and we are all very appreciative of the support we received; it helped us to reconsider. This year the event is really being held by popular demand and we may have to pick up most of the costs. We'll have some new plans in place before the 2017 event and hopefully we won't ever have to consider cancelling again."
Other organizations are invited to partner with them or contribute in some way. One plan involves seeking sponsorships from other organizations interested in sponsoring one or more of the events held at the annual festival. For example, one could help sponsor the Tiny Tots Jigging category while another could host the Golden Age category and so forth.
"There will be opportunities for others to get involved with us but it's too early to get into details right now," concluded Gaucher, noting that she would soon begin "contacting local and regional organizations and businesses in preparation for the 2016 festival."
This year's Métis Spring Festival will include performances by the Asham Stompers, Sagkeeng's Finest and MCFS Jiggers. Kids under six years of age get in free; tickets are $7.00 for youth aged 6-12 and $10.00 for those 13 and older.
To learn how you can participate as a host or sponsor or to learn more about the event in general, including ticket information, please contact Florence Gaucher at 780-452-6100, Ext. 227 or email: [email protected]