by John Copley
(ANNews) – Spring is upon us and with it the beginning of the rodeo and powwow seasons. The first of many events that will take place across western Canada gets underway on May 7, 2016 when Edmonton Catholic Schools and Aboriginal Learning Services and the Ben Calf Robe Society, in partnership with the City of Edmonton present the 35th Annual Ben Calf Robe Traditional Pow Wow. The popular event will be held at the Commonwealth Community Recreation Centre (Indoor Fieldhouse) at 11000 Stadium Road.
The Ben Calf Robe Pow Wow is one of the biggest traditional powwows that takes place in Alberta every year. It features thousands of spectators and hundreds of dancers, colourful and beautifully designed regalia, more than two dozen drums and celebration that embraces everything from culture and tradition to family values, education and purpose. The annual event recognizes leaders in the community, honours Elders, and remembers those who have come before; it is an educational experience and an exciting fun filled day. The powwow has remained successful and in fact continues to grow in both numbers and popularity – but it doesn't happen all by itself.
"It does take a fair amount of planning and a great deal of coordination," agreed event organizer Rhonda Metallic. "Thankfully it isn't something that is delegated to just one or two people; we have a whole team involved, including an active group of Pow Wow Committee Members, school and city staff volunteers."
Her words came just minutes before I was introduced to the 15 Committee Members who were meeting to go over this year's powwow plan of action. Here are some of the important things that I learned at that meeting.
The powwow will utilize the help of approximately 50 volunteers, most of whom will represent Indigenous Youth Leadership Program students from the various participating schools.
The first Grand Entry will take place at 1 p.m. on Saturday, May 7 but everyone is invited to come early because there will be a Pipe Ceremony at 9:30 a.m. Registration will be begin at 11 a.m. and close after the second Grand Entry gets underway at 6 p.m. This year in honour of the 35th anniversary, the powwow will return to its traditional ways and host two pipes – one men's and one women's.
A Mother's Day Round Dance will be included in this year's program and will take place at 8:30 p.m.
A quiet room within Commonwealth Stadium has been established for the Elders; arrangements were made in part by Pow Wow Committee Member Greg Witt, who along with Ksenija Lipovcevic, represents the Commonwealth Community Recreation Centre.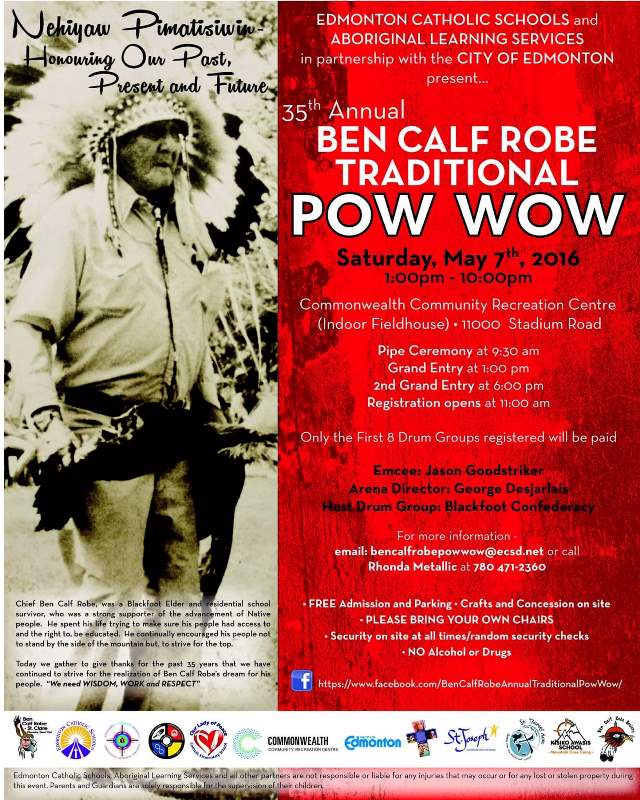 There will be at least 24 Drums at this year's event; the Host Drum is Blackfoot Confederacy. There will be at least 35 vendor tables and an impressive list of speakers and greeters that will include words from the Edmonton Catholic School Division and welcoming comments from Council of Elders leader Betty Letendre.
Elder Betty Letendre is a well-known and respected Elder who has worked as a member of the Edmonton Catholic School Board since 2004. "Once again it is an honour to be involved in this extraordinary event," she smiled. "It is always a blessing to see so many of our young people celebrating their culture; May 7 will be another great day."
The Master of Ceremonies for the annual powwow will be Jason Goodstriker. George Desjarlais is the Arena Director. Elders Fred Campion and Betty Letendre will offer prayers, participate in ceremonies and be available for those that need them. Leith Campbell and Rhonda Metallic will assist in the introduction of special guests, speakers and dignitaries. Honour Guards from both Edmonton Police Services and the RCMP K Division have been requested.
Other recommendations that were put forward during the planning meeting included honouring missing and murdered Indigenous women (MMIW) and recognizing families within the district. A special moment will take place to honour MMIW from 5 to 6 p.m.
Elder Fred Campion became involved in the Ben Calf Robe Pow Wow in 1982 and, along with Elder Betty Letendre, is one of the Committee's longest serving members. He addressed the gathering with a suggestion that may not take place until 2017.
"I'd like to be able to honour those who came before us and with us," he said. "We have had many outstanding people involved in the powwow over the years, people like Pat Shirt, Maggie Hodgson and others. It is important that we recognize and thank those who have helped in the powwow's continued success. The Ben Calf Robe Pow Wow is a very important event and integral to our culture – like pipe ceremonies, smudges and sweats, honouring our schools, our students and our leadership. Our prayers have been answered and together we must try to keep that spirit intact. This is another new opportunity to talk to our youth about the importance of staying strong today so they can make positive choices and differences tomorrow."
The Ben Calf Robe Traditional Powwow is a sight to behold. But the annual powwow is just one of the things that the Ben Calf Robe Society is involved with. The organization, whose motto reads: Our children are sacred: our work strives to protect and enhance this sacredness by providing children and their families with holistic education, supportive social services and programs of high quality and cultural relevance, offers several important programs and initiatives to help support children, women and families. The Society continues to support the Ben Calf Robe School but its primary purpose is to serve the larger community through its unique programs.
The society's programs include Ketotayminawok (In-home family support), Group Homes (Safe and Secure Living Environments), Kichi Awasisak (Family health and parenting), Foster Care (Placement for Aboriginal children and youth) and Youth Intervention (Cultural after-school activities).
Ben Calf Robe Society was established in 1980 by a group of concerned citizens who looked at Native education in the City of Edmonton and discovered that approximately 80 percent of Aboriginal children did not complete high school. Their solution was to establish a school where Aboriginal children felt accepted and culturally comfortable and thus were encouraged to remain in school and complete their grade twelve. With the collaboration of the Catholic School Board, the Ben Calf Robe Society school was created.