On a day dedicated to a national dialogue on Mental Health, January 28 – Bell Let's Talk Day – the Assembly of First Nations (AFN) released a national framework addressing mental wellness among First Nations in Canada.
Federal, provincial, and territorial mental wellness programs and services do not currently meet the needs to address the mental wellness challenges faced by many First Nations communities, resulting in a gap in care. The First Nations Mental Wellness Continuum Framework identifies ways to enhance service coordination among various systems and support culturally safe delivery of services.
The Framework is the result of extensive collaboration that began in 2012 among the AFN, Health Canada, and community mental health leaders, including the National Native Additions Partnership Foundation and the Native Mental Health Association. The process included a comprehensive mapping of existing mental health and addictions programming that identified gaps and ways to address and avoid them.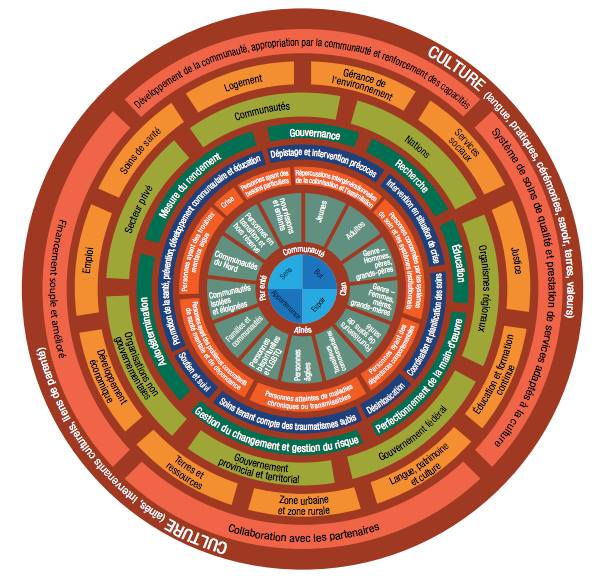 Culture is the heart of the framework, emphasizing First Nations strengths and capacities. It identifies a continuum of services needed to promote mental wellness and provides advice on policy and program changes that will enhance First Nations mental wellness outcomes.
Service integration among federal, provincial and territorial programs is central to its success. The Framework provides guidance to enable communities to adapt, optimize and realign their mental wellness programs and services based on their own priorities.
Shared ownership of the Framework was achieved through extensive collaboration throughout the process, and by listening and responding to community voices at every stage of development.
"We know that community solutions are the key to our success and we know that First Nations cultures must be central and foundational to addressing substance use issues and promoting wellness for individuals, families, and communities," said Assembly of First Nations Ontario Regional Chief Stan Beardy who leads the efforts on the AFN National Executive in the area of health. "First Nations people are taking our health into our own hands, but achieving the envisioned continuum of mental wellness will require sustained leadership, commitment and collaboration by all parties. We look forward to continued leadership and support across the continuum of care and among provincial, federal and territorial programs."
The First Nations Mental Wellness Continuum Framework is a shared vision among the Assembly of First Nations, First Nations and Inuit Health Branch, the National Native Addictions Partnership Foundation and for the future of First Nations mental wellness programs and services.
The First Nations Mental Wellness Continuum Implementation Team is guiding Implementation of the framework at community, regional, and national levels.
Click here for more information on the First Nations Mental Wellness Continuum Framework.
January 28 is the fifth Bell Let's Talk Day. Today Bell Canada will donate 5 cents to Canadian mental health programs for every text message, wireless and long distance call made by Bell Canada and Bell Aliant customers as well as every tweet using #BellLetsTalk, and every Facebook share of Bell Let's Talk Day image at Facebook.com/BellLetsTalk. For more information, visit Bell.ca/LetsTalk.