APTN's  gritty drama Blackstone was the star of the 2014 Alberta film industry, earning six Alberta Film and Television Awards last month at the 40th Anniversary event held in Calgary to honour homegrown productions and film workers.
Blackstone, currently shooting its fourth season outside of Edmonton, tells the often harrowing story of corruption, power and addiction on a First Nations Reserve. It took home a win for Calgary actress Michelle Thrush, her second Rosie for her acclaimed performance as Gail Stoney. Alongside the win for Thrush, creator Ron E. Scott was honoured in directing and screenwriting categories while Mike Shields also won two awards, for his soundtrack work in both the series and a The Making of Blackstone documentary. The show was also awarded the prize for the production that best reflects cultural diversity.
Scott says he take pride in the series' ability to inspire Aboriginal viewers both in and out of the entertainment industry.
"We're inspiring this next generation to say: We can do that," he says. "We hire actors, we train them and we try to do our best. It's something I'm really proud of."
After an expression of gratitude, Thrush made a direct plea to Alberta producers in the audience to cast Aboriginal actors and actresses as "human beings."
"I've been in this business for close to 25 years working professionally as an actor," Thrush told the Calgary Herald after the ceremony. "And I think we're beyond the time to start casting Aboriginal actors as just human beings. I am so tired every time there is a native character guest starring or a native character here or there they call us in. I want to come in an read for people who are just doing whatever and it has nothing to do with the culture I'm a part of. I'm an actress who just happens to be Aboriginal."
An intensely real drama ripped straight from the headlines, Blackstone is an authentic story of hope and reconciliation in its depiction of people fighting for a better life in their community. Viewers can binge watch seasons one, two, and three of Blackstone at www.aptn.ca/blackstone to catch up.
Blackstone is produced by Prairie Dog Film + Television, with Scott as executive producer, writer and director, Jesse Szymanski as producer, Damon Vignale as producer and writer.  The series currently broadcasts in Canada on APTN, in New Zealand on Maori Television, in Australia on SBS/NITV, and is internationally distributed by PPI Releasing.  Blackstone has been nominated for 72 awards, winning 20, including 2 Geminis, 4 Leo Awards and multiple Alberta Film & Television Awards.
Most recently, Season three of Blackstone received 4 nominations at the Canadian Screen Awards including 'Best Dramatic Series,' for Scott, Szymanski and Vignale. Along with 'Best Performance by an Actress in a Continuing Leading Dramatic Role' for Thrush,  'Best Performance by an Actress in a Featured Supporting Role in a Dramatic Program or Series' for Cheri Maracle, and 'Best Writing in a Dramatic Series' for Scott and Vignale.  Prairie Dog Film + Television also received 3 nominations for The Mayor's Celebration of the Arts annual event which acknowledges Edmonton's arts community. The 21 year old company was awarded the ATB Financial Ambassador of the Arts Award as well as the DIALOG Award of Excellence in Artistic Direction.
 "Producing a 4th Season of a one hour drama is a major milestone," noted Scott,  "and we appreciate and recognize that. We look forward to portraying relevant and timely themes, such as human trafficking, the prison system, political corruption and oil resource development."
Another winner at the recent Alberta Media Production Industries Association awards in Calgary was Edmonton's BearPaw Media Productions for its film Just Cause 2 under the categories Best Comedy and Best Screenwriters (Drama Under 30).
In response to the award, Director Alexandra Lazarowich said, "I am so proud of the two AMPIA awards and we thank the Alberta Motion Picture Industry of Alberta for recognizing our hard work. It is an honor to be recognized by your peers and it shows that BearPaw Media Productions is creating great work."
Just Cause 2 follows the adventures of a rebel Kokum (Edna Rain) and her semi-responsible grandson (Nathan Alexis). Hosted by comedian, Howie Miller, this hilarious comedy teaches adults of all ages about their legal rights and responsibilities when dealing with landlords and tenancy, identity theft and even probation. Just Cause 2 is a testament to the skill, ingenuity, and vision of its creators by identifying legal parameters with a comedic twist.
"I really think this film was a success because of the two main characters," said Lazarowich, "They brought humor and passion to each scene and they inspired us to make a film that everybody could laugh at."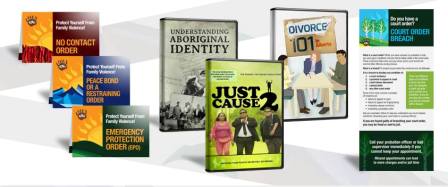 Not only is Just Cause 2 winning AMPIA awards, but it is being used by local non-profit organization, Homeward Trust Edmonton, an organization that is committed to ending homelessness. They will be using  Just Cause 2 to help front line workers to assist clients in dealing with homelessness and obtaining permanent residence.
This resource will be used in seven cities across the province. For more information visit bearpaweducation.ca.