By Regan Treewater
(ANNews) – There are exciting developments afoot at Edmonton's Yellowhead Tribal College.
Have you perhaps, been wondering what the City of Edmonton was planning to do with the old Grant MacEwan building on 156th Street? Well, it now serves as YTC's new, and vastly improved, campus.
"The City's vision was to fill the building with non-profit groups, and we are not the only ones who share the space, but we do currently occupy a majority of the building," explained Dr. Rachel Hertz-Cobb, YTC's Senior Administrative Officer.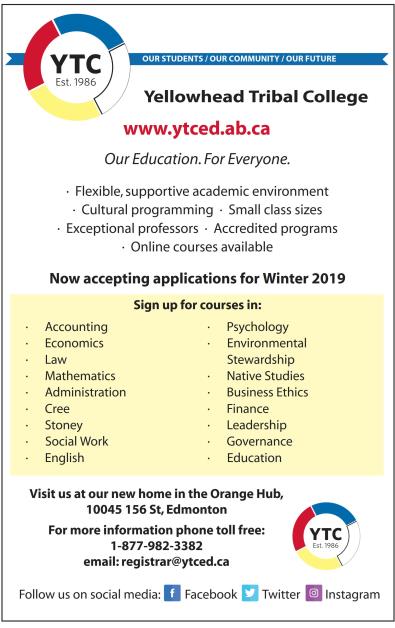 "Our previous campus had some very obvious limitations," she continued. "It wasn't the sort of space where students could easily find a quiet sunny spot to sit down and make themselves comfortable to study or read a book – those regular things that students do. We're all so excited about this move."
There are still some unique situations that the YTC administration must maneuver. At a recent reception held to kick off the new school year in their new space, YTC hosted students, staff, faculty and First Nations community members to celebrate the institution's upgrade, building smoke detectors needed to be disabled for the afternoon to allow for a traditional smudging ceremony to take place.
"We obviously need to be able to smudge, and we're problem solving now to figure out the best way to make this possible without having to get the fire marshal to patrol the premises manually every time we need to do this. There are definite things that we need to do to make the space our own."
Since 1986, Yellowhead Tribal College has been a leader in pioneering post-secondary education focusing on the cultural and community needs of First Nations students.
"It isn't just a matter of teaching different material," elaborated Dr. Hertz-Cobb. "Math doesn't change based on where, or to whom, it's being taught. Our focus on the needs of our students has more to do with cultural considerations. We understand their unique struggles, the societal and personal obstacles they face, and we know that 40% of our students have families."
This approach, serving student needs on a case by case basis, is made possible through small class sizes and faculty and staff that are trained to address learning as unique to each individual.
"For instance," Dr. Hertz-Cobb explained, "my understanding is that at any other post-secondary institution, if a student needs extended time on an exam, they'd need to go through an extensive process to formally document a disability or establish why they need that accommodation."
"Here, students only need to communicate with their instructors – our student body faces obstacles everyday, and we make sure that education is not one of them," Dr. Hertz-Cobb stated proudly.
"Childcare can be another hurdle, last year we had a student give birth during the school term. She was able to bring her baby to class with her – we've had a number of mothers with young newborns bring their babies to class. It's not a disruption. When you create that environment where this is possible, and normal, then you not only make learning accessible, but you remove a major stress factor, and students are more likely to finish their program successfully."
Along with their new building and increased number of classrooms, YTC has also hired an Indigenous language specialist.
"We are even planning to make conversational Cree evening seminars open to the community," said Dr. Hertz-Cobb. "In this way we are engaging not only our students, but the greater community as well."
Students can now choose from a number of promising diploma programs, or a Bachelor of Social Work degree. Dr. Hertz-Cobb and her colleagues are hopeful that with their new building facilities, YTC can continue to expand its course offerings.
"The program offerings we have at YTC speak directly to community needs," she commented.
Regarding programs in development for the 2019/20 school year, Dr. Hertz-Cobb stated, "Solar panel installation, community health worker – these are careers that are necessary and help to build vibrant communities."
With their campus now situated along one of Edmonton's major traffic arteries, YTC knows that they will have greater visibility.
"This also makes getting to class easier for our students. We're working on getting a better sign put up so that people walking or driving by know where we are."
Their move to a new building, and gradual expansion of course offerings will soon translate into a larger student body. YTC has big hopes for the future, and everyone is excited to be witnessing the college's first convocation ceremony in many years. With four years of proud graduates walking across the stage to receive their degrees, YTC's students and staff are getting but a small glimpse of the wonderful progress being made within their community.