by Kinnukana, Local Journalism Initiative Reporter
(ANNews) – The First Nations Health Consortium (FNHC) is hosting its 2nd Annual Teepee Summit 2023 (Summit) on Treaty 6 territory and the Homeland of the Métis from August 24 – 26, 2023 at the Poundmaker's Grounds located at 25108 Poundmaker Road in St Albert, Alberta. This year, the summit will be focused on inspiring youth, and it will be a gathering of many encouraging voices to share knowledge, wisdom, and experiences.
Over the course of three inspiring days, the Teepee Summit will feature a lineup of influential speakers. Ashley Callingbull, Cree First Nations model, actress and motivational speaker will be the Emcee for the Summit. Other influential speakers include and are not limited to Kiya Bruno, Maskwacis Cree Nation actor, artist and traditional vocalist and dancer; Lannie Houle, Plains Cree and Sylix Okanagan athlete and Miss Universe Canada 2023 contestant; Kyle Young, Bigstone Cree Nation musician and lead guitarist, singer and manager for the Troubadours; and Sergeant Nancy Farmer of the Tsuut'ina Nation Police Service. These amazing speakers come from all different backgrounds and will share their personal journey in order to inspire Indigenous youth to pursue their own passions.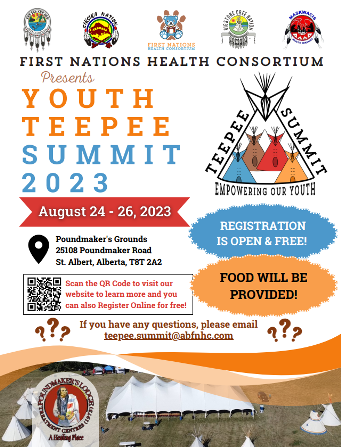 Following each motivational speaker, participants will engage in dynamic sessions facilitated by experts in their respective fields. These sessions will provide a platform for open discussions, enabling First Nations youth to share their ideas, perspectives and aspirations. These discussions will give participants meaningful ideas and projects to bring back to their communities.
The Summit will focus on three key themes:  Strengthening communities through health, safety, and the recruitment of first responders; emphasizing the importance of sport for youth; and recognizing the arts as a powerful tool for community building. This extraordinary event will allow for networking, sharing stories, mentorship, social reconnection, including increasing awareness and access to jobs, partnerships, training, and educational opportunities in corporate, government and Indigenous sectors.
There will be a variety of Industry booths sharing information about their organizations and available opportunities. Claudia Jones, Acting Communications Coordinator for FNHC stated that "some of the long-term impacts of the TP summit would be to enhance and enrich partnerships and relationships between and among all parties – industry, governments, and First Nations organizations and leaders, and together make a difference by inspiring youth."
The Summit is open to all First Nations youth and young adults from Treaty 6, 7, and 8, Elders, industry, and government leaders. Up to three hundred people are expected to attend the event. If you are interested in participating, you can find more information on the FNHC website at this link Tee Pee Summit – First Nations Health Consortium (abfnhc.com).
People can register on the website by downloading the form, filling it out, scanning it, and then emailing it back to FNHC at [email protected]. They can also fill out the electronic form on the website which gets automatically submitted online. Registration for the event is free, but participants will be responsible for their own transportation and accommodations.  Meals will be provided at the event.
Claudia said, "The Summit is a time to gather, refresh and recharge and get ready for strong representation in our First Nations communities, economy, and society at large. Together, we are better able to advance shared social outcomes, health and wellbeing, especially following a global pandemic."
The First Nations Health Consortium, host of the Summit, is an Alberta-wide organization that provides Enhanced Service Coordination to First Nations people living on and off reserve in Alberta. The organization was established through a collaboration between four First Nations health organizations from Treaty 6, 7, and 8 in Alberta: Bigstone Health Commission, Kee Tas Kee Now Tribal Council, Maskwacis Health Services, and Siksika Nation and is supported by eleven partner Nations Bigstone Cree Nation, Loon River First Nation, Lubicon Lake Band, Peerless Trout First Nation, Whitefish Lake #459 First Nation, Woodland Cree First Nation, Samson Cree Nation, Louis Bull Tribe, Montana First Nation, Ermineskin Cree Nation and Siksika Nation. FNHC was created to improve access to health, social, and education services and supports to Indigenous children throughout the province.