(ANNews) – The Edmonton-based Family Centre is thrilled to announce their newest program, ohpikîhakan. ohpikîhakan was developed to meet the holistic needs (mental, physical, spiritual, and emotional) of youth ages 13 – 17 in the care of Children's Services. This program is part of a province-wide initiative called "Therapeutic Foster Care." It is embedded with culturally responsive services and Indigenous worldviews.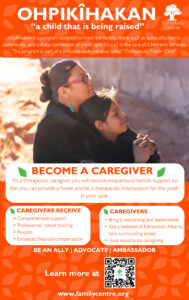 "ohpikîhakan is an incredibly unique and exciting opportunity to make a substantial difference in the lives of our youth. I truly believe that we can offer a nurturing and healing environment for our youth, as caregivers, when we are equipped with the knowledge, culture and therapeutic support to be able to do so; ohpikîhakan encompasses all of this," says Laurie Escott, a therapeutic supervisor with ohpikîhakan.
Chantelle Painter, a caregiver recruiter for ohpikîhakan, continues, "The very first call to action from the Truth and Reconciliation Commission is to reduce the number of children in government care. This program seeks to do just that through reunification. We are living our commitment to using our privilege to advance the process of Canadian reconciliation."
The ohpikîhakan team wanted to begin the work in a 'good way' by listening to the wisdom of Treaty 6 elders. Before working with clients, the program began in a pipe ceremony. The team presented protocol; a grandmother print and tobacco, to seek wisdom from the elders and the ancestors. Elder Dr. Leona Makokis prayed for the program and later provided us with a name for the program: "ohpikîhakan." This Cree word translates into a child that is being raised. This name was a gift, highlighting the relationship and connection to a child's culture and family. The grandmother print hangs in their office for continued guidance from the ancestors.
ohpikîhakan is founded on the belief that youth need to experience belonging, healing, connection, and reunification. They believe this occurs with regular contact with family members, culture, and community. They specialize in family engagement and therapeutic support to respond to these needs. Caregivers are ambassadors, allies, and advocates for youth wellness and healing.
Their program emphasizes practices like trauma-informed care, cultural connection, wraparound support, and youth reunification. Since youth live in the caregiver's home, caregivers have minimal separation between their professional role and personal life. That is why their team actively supports each caregiver with tailored training, individualized support, and peer engagement.
ohpikîhakan caregivers must take training, have a licensed home, and get an approved home study. This may sound daunting, but they will support caregivers at every step of the process.
Some of their caregivers want to "right the wrongs" they have experienced in their own life. Others see it as their responsibility as part of their reconciliation journey. Above all, every one of them has indicated they feel 'called' to this role.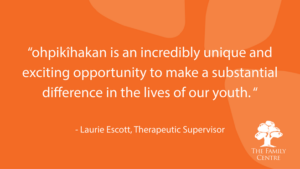 "One of the greatest gifts I get from seeking caregivers are the stories that are exchanged.  Every person drawn to this program is giving a piece of themselves and the opportunity for their stories to enable the success of the youth they will guide," Chantelle Painter shares.
"I can't quite explain the energetic pull I feel toward this program and the caregivers I have met so far. Being able to use my experience with relational child and youth care work while incorporating an Indigenous worldview in this brand new program has opened a floodgate of passion, excitement, learning and gratitude. I am beyond excited to be a part of this journey of shaping therapeutic caregiving," says Kaitlyn Shinness, a therapeutic supervisor with ohpikîhakan.
The Family Centre would love to hear from you if you are reading this and feel you could be a therapeutic caregiver within our program.
Learn more about the program at familycentre.org/youth-resources/therapeutic-foster-care.