Métis Child and Family Services (MCFS) is just one month away from participating in the Seventh Annual Métis Spring Festival, a two-day gala and cash prize contest that will take place in St. Albert's Servus Centre on Saturday and Sunday, May 16-17. Country music lovers will also appreciate that on Friday evening, May 15, the Canadian Country Music Legends (CCML) will perform at the same venue. Popular Canadian music singer/recording artist Randy Hollar will get the ball rolling at the CCML concert as he salutes and honours the legendary Wilf Carter, the nationally acknowledged "father of Canadian country music" whose popularity during the early years of country music in Canada reached out across the world.
Band leader George Myren, the founder of the CCML organization will take the stage with wife and lead singer Joyce Smith and the rest (Rich Chernesky, George Myren, Gary Okrainec, Paul Martineau, & Stewart MacDougall) of the Rodeo Wind Band. Other performers who'll give the audience an evening to remember include locally well-known music legends Calvin Volrath, Gary Pruden, Alfie Myhre (two time Grand North American Fiddle Champion); Bev Munroe (2002 CCMA Broadcasters Hall of Fame Inductee); and singer, songwriter, broadcaster Pete Hicks.
"It's going to be another outstanding evening of great music, fun and lively entertainment and everyone is invited to attend," smiled Alfie Myhre, who's been performing with popular group for about 15 years. "Come on out and join us on May 15 – it will be an evening that you'll remember for a long time."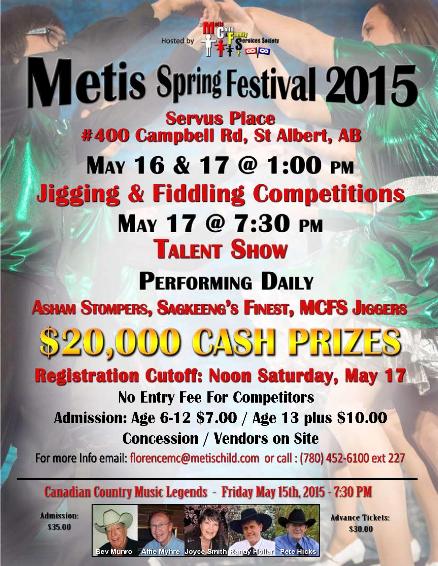 Tickets for the event can be purchased at Myhre's Music (call 780 477-1586) or Metis Child and Family Services
(call 780 452-6100).
Métis Spring Festival 2015 will once again and by popular demand be bringing in  three popular professional performer groups to wow the crowd and entertain the citizens of St. Albert, Morinville and Edmonton. Sagkeeng's Finest, a talented uptempo group of young men who hail from northern Manitoba's Sagkeeng First Nation is one of them. Their biggest  and most noteworthy competition victory came in 2012 when the three young men entered and won the 2012 "Canada Got Talent" contest, knocking out more than 11,000 other hopefuls  who'd entered the inaugural event.
Another is the very hot Asham Stompers, crowd favourites wherever they perform – and that's just about everywhere. The group, which comprises both Métis and First Nations dancers, said their mission "is to help recapture and preserve the history of the Métis people through the traditional dancing of Red River Jig."  Their purpose is "to help bring hope to the Aboriginal people by taking something that is already a part of most Aboriginal communities and sharing it with the world."
The final group of invited performers is the ever-popular Metis Child and Family Jiggers. This crowd-pleasing and award-winning group has played in many venues throughout the province and beyond, including an adventure to Hawaii in 2010 where they joined up with other Indigenous groups from around the world to share their music and their stories.
Registration for the jigging and fiddling competitions will get underway at 9 a.m. on Saturday morning with competitions beginning at 1 p.m. on May 16. The finals will take place at the same time on Sunday. Professional dancers who currently dance with an organization or group will not compete for prize money, and as established in 2013, paid performers will not be competing for prizes.
"To be fair to our younger and less experienced generations we changed the criteria in 2013," explained Langford. "We are encouraging our youth, our adult jiggers and our seniors to come out this year and compete on an equal footing for the $20,000 in prize money. Registrations begin at 9 a.m. on Saturday morning and close at noon, but the earlier you get your name in, the easier it will be to arrange the list of talent when the competition gets underway."
There are no entry fees for the competitions in any category but there will be a nominal admission charge to help offset costs of hosting the event; the price remains the same as it was last year. There is no charge for babies and toddlers; 6 to 12 years of age will be $7.00; 13 years and older will be $10.
And there's been another exciting addition to this year's Métis Spring Festival – a talent show for singers that will take place at 7:30 on Saturday evening, May 16. There will be various categories within the contest. To learn more, contact Florence by email: 
[email protected]
 or by phone to: 
780-452-6100 Ext 227
.
Servus Centre is a large and well-serviced facility and Langford said the location "has been the ideal setting for the Métis Spring Festival since we first booked it in 2010. The community has been great supporters of the venue and Servus Place has more than enough room to accommodate the crowds who turn out every year to watch as competitors in every age group vie for prizes and recognition."
There's also lots of parking space and the popular 320,000 square foot multipurpose leisure centre houses, among other things, three NHL-sized arenas, an aquatic centre, fitness centre, indoor playground, three gymnasium courts, two field houses, a teaching kitchen, and numerous retail operations and food service outlets.
The 2015 Métis Spring Fest, which is being hosted solely by MCFS, takes place just two and a half weeks after the organization's 30th Anniversary, a milestone that Executive Director Don Langford calls both humbling and satisfying.
Langford, who's been with MCFS for the past 17 years, said he is very pleased with "the positive change" that's taken place over the years, including the fact that the organization has tripled in size since 1998. "We are truly an Aboriginal organization," he said, noting that "our management and our board are all Aboriginal members of the community, as are many of our staff."
MCFS works diligently to ensure that they make a positive difference in the lives of both those they serve and in society as a whole. The organization has a proven track record and a lengthy list of objectives that work to ensure that Métis children, women and families have access to services and opportunities that they may not be able to access by themselves. MCFS endeavours to improve the quality and effectiveness of social services to Métis children and families in need and in doing so develops and provides programs that preserve and strengthen Metis families. The organization also promotes the health and well-being of Aboriginal children and families by building capacity in the Métis community through the provision of culturally sensitive and appropriate services and programs.
MCFS programs include: Aboriginal Child and Family Support, Family Services, Choices/Choices a Partnership Stay in School and Youth Support Program, Community Support Homes (Foster Care), Family Violence, Protection of Sexually Exploited Children and the Street Outreach Team Assisting community resources.
by John Copley