by John Copley
(ANNews) – Western Canada has so many good-weather venues and summer events that it can be quite difficult to plan your summer holidays. Sometimes you look high and low for the right venue and never find it and other times ideas just fall into your lap. If you want to have a great time this summer, plan a trip to Saskatchewan between August 11 and 14 for the John Arcand Fiddle Fest.
By a great time, I mean wonderful musical entertainment, workshops and cultural events as well as very reasonable prices. There is free camping, plenty of facilities, lots of parking space, free shuttle service to and from Saskatoon, a 200 by 80 foot covered roof with a dance floor and drop-down walls in case it rains. Non-campers will also find special prices for hotel rooms at Saskatoon's Heritage Inn and Conference Centre. If you're attending the event for a single day, the cost is just $25; spend the entire weekend for just $60 a person. There is no charge for children 12 years of age and younger.
The John Arcand Fiddle Fest, presented by PotashCorp, will take place at Windy Acres, which is located 10 kms south of Saskatoon on Pike Lake Hwy #60. There is no charge to competitors and no pre-registration for the event; all registrations are done on site at the time of the festival.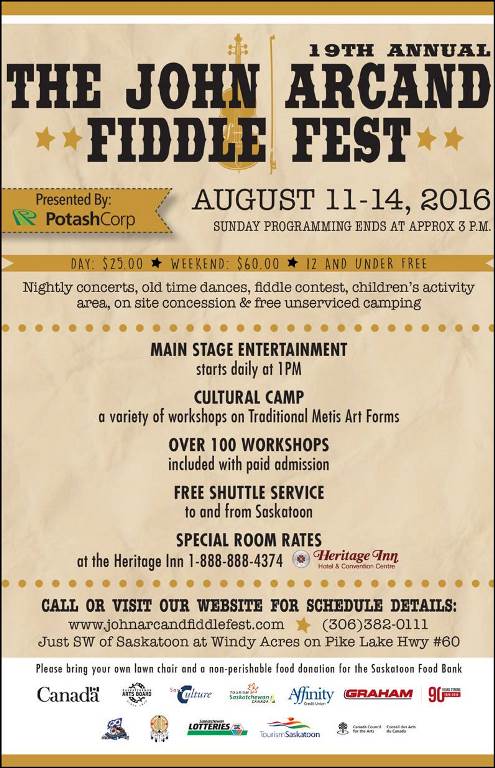 Vicki Arcand is the event organizer and wife of the festival's namesake, master fiddler John Arcand. "Our goal," she explained, "is to present an annual festival that offers cultural awareness and diversity in programming; we want it to be both inviting and affordable to everyone." And the John Arcand Fiddle Fest has been meeting that goal in spades for 19 years.
While the weekend event features a fiddling competition with cash prizes and culminates with the naming of this year's prize winners, the annual festival offers much more, including a family-friendly atmosphere with a Children's Area that offers a variety of planned interactive activities for kids.
Things get underway at 9 a.m. on Thursday morning, August 11 with a cultural camp that offers among other things, flat and peyote beading, finger weaving and embroidery and Metis Art Workshops. Other workshops will include fiddle, guitar and traditional Red River Jigging. Thursday's daytime Main Stage performers will include Theresa Sokyrka, Trent Bruner, Jack Walton and a square dancing workshop. An Instructor's Showcase concert will take place Thursday evening from 6:30 until 10 p.m. and will feature jiggers Yvonne Chartrand and Raymond Shumi, guitarists Freddie, Sheila and Clinton Pelletier and fiddlers Calvin Vollrath, Patti Kusturok, Lucas Welsh, Daniel Gervais, Fay MacKenzie, Tahnis Cunningham, Gordon Stobbe, Rodney Kipp, Shamma Sabir and John Arcand.
Similar schedules on Friday differ only by the artists who will perform during the Main Stage afternoons and the addition of square dancing (workshops) and Metis Oral Culture Workshops (cultural camp). Saturday begins with Fiddles and Flapjacks (a flapjack breakfast and the serenading tunes of live fiddle music), while Sunday gets underway with gospel music featuring Freddie and Sheila Pelletier.
Two days of free workshops – 110 in all – are included with every guest's paid admission. Workshops are offered in fiddle, jigging, guitar, square dancing while the Cultural Camp offers a series on Metis Art Forms.
"Workshops," explained Vicki, "last two full days and deliver something for virtually any level of player – including the absolute beginner fiddler – and fiddles are provided. The instructors are well known and respected fiddlers, dancers, and guitar players who come from all over Canada. The festival has a strong Métis theme, but also promotes other types of fiddle, music and dance from all cultures. Red River Jigging, one of the mainstays of Métis culture, is also taught from beginner through advanced stages."
Workshops are designed for every ability from beginner to intermediate and advanced – the advanced Fiddle sessions are delivered by the incomparable Calvin Vollrath. Guitar workshops are instructed by Sheila, Freddie and Clinton Pelletier while the Traditional Red River Jigging sessions are delivered by Yvonne Chartrand and Raymond Shumi.
"The competition features the Traditional Metis Category, the John Arcand Category as well as the traditional contest levels for all ages and skill levels," noted Vicki. "Some contest preliminaries start on Friday – the bulk of them run Saturday with the finals running on Sunday. This is another interactive opportunity to develop technical, competition and performance skills; the fiddle contest has grown to become one of the largest in Western Canada."
If you plan to attend the fiddle fest be sure to bring your own lawn chairs and if possible, leave your pets at home; they are not allowed near the main stage area and must be kept in control at all times. Camping is free but fires are not allowed on the site. Vehicles must remain in the designated parking place and are not allowed at the tenting site. The playground is unsupervised and parents are encouraged to keep an eye on their kids while using the playground equipment. Wristbands are provided at the gate and must be worn throughout your stay at the festival. Smoking and alcohol are not allowed at the main stage area.
The John Arcand Fiddle Fest began in 1998 when John Arcand (known as the Master of the Métis Fiddle) had a dream to give something back to the community.
"John felt (and still feels) that the fiddle had been very good to him," noted Vicki, about her husband. "He wanted to see the music preserved and the traditions carried on and he wanted to provide an opportunity for young people to learn the traditions behind the music and dance under the guidance of Elders."
What began as a one-day event has now grown to a four-day festival that celebrates music, dance and culture. In 2001 the John Arcand Fiddle Fest incorporated as a non-profit organization with a volunteer Board of Directors. In 2003 and 2004, with the support of funding and sponsorship, the Festival was able to begin paying limited artist fees, travel and accommodation expenses and began to attract larger audiences.
In order to maintain and grow the John Arcand Annual Fiddle Fest a set of core values was adopted.
"Our core values include promoting and preserving fiddle music and dance, offering mentoring through workshops, featuring a variety of artist presentations and disciplines and providing a showcase for both youth and talent," explained Vicki. "Our mandate also facilitates networking among the fiddle, music and dance community; promoting cross-cultural exchanges and creating awareness and promotion of the Metis culture."
To get to the event take 22nd Street West right out of Saskatoon, stay on Highway #7 and watch for signs. Windy Acres is located just off the Pike Lake Highway (#60) approximately 10 kms west of the city of Saskatoon. A printable map is available on the website.
To learn more about the John Arcand Fiddle Fest and to see a full schedule of times and events and other festival information, visit johnarcandfiddlefest.com. You can contact the festival at 1-306-382-0111 or by sending an email to: [email protected]