The brightly coloured and appealing artwork offered on the cover of this month's edition of Alberta Native News was created by April Mercredi, a 74 year old Alberta-born mixed-media artist of Chinese, Cree and French ancestry who only came to realize her remarkable gift when she was in her mid-60s. Several pieces of the artist's Talking Stick collection are on exhibit at Roots-on-Whyte in Edmonton open weekdays and Saturdays from 9 a.m. until 4:30 p.m.
"April's work is absolutely stunning; the vibrant colours seem to jump right off  the canvas," smiled Roots-on-Whyte Manager/Marketer, Alix Bean. "We've been showcasing art on these walls since the facility opened nearly two years ago, but this is the first time we've presented work by an Aboriginal artist. There's a lot of interest in her images and people often comment on the beauty and depth of the work."
April Mercredi is currently a full time artist with a big enough collection to host an exhibition of her work. But it wasn't always that way. Brought up in poverty, living in the bush, schooled in a one-room schoolhouse, difficult interactions with extended family and a variety of other hardships too numerous to mention, Mercredi had many demons to overcome. She sought counselling and found it, but it was her ability to survive, to learn and to overcome that enabled her to find a career path that would lead her down many highways and into many communities and organizations as a life skills coach.
"I spent the better part of my life trying to help make a positive difference in the lives of others," she explained, "and I wouldn't trade that experience for anything."
But the experience, even though it was rewarding, had a way of taking its toll and after years of seeking to help others, Mercredi knew it was time to help herself.
"I needed a change; I needed something different," she said during a recent interview. "Quite frankly, I was in my mid-to-late 50s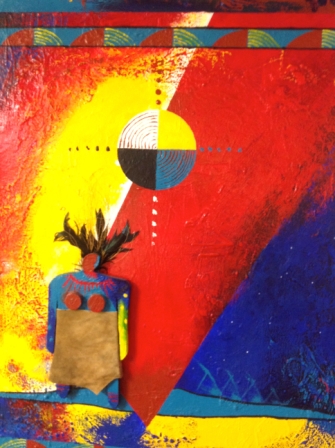 and I was burnt out. The years of one-on-one and group counselling took its toll. As a life skills coach there's a great deal of work and a lot of responsibility, and eventually I just needed to step away. It's a draining occupation that sees so much emotion come to the surface, not just with the people you are trying to help, but within yourself as well. I helped people overcome their anxieties and fears; I taught them how to develop a positive attitude and showed them how to increase their self esteem. I also tried to instill a sense of importance when it comes to dealing with everyday life. That means asking yourself, what can I do to make that better? How can I go about making positive changes? What must I incorporate into my life to help me deal with anger management issues? How do I make the right choices and how do I know when they are the right choices?"
Mercredi said that she needed change but remained determined to find "something that was both meaningful to others and fulfilling to me."
She found it at the kitchen table with a pen and piece of paper. She liked to draw and knew it would be an ideal way to share her experiences, her knowledge and her visions with others. In 1997 she enrolled in the Arts Program at Red Deer College where she primarily studied and broadened her knowledge and skills as an "Aboriginal Abstract" artist. After College she enrolled in Edmonton's Pro Arts school where she "learned how to work with portraits and landscapes."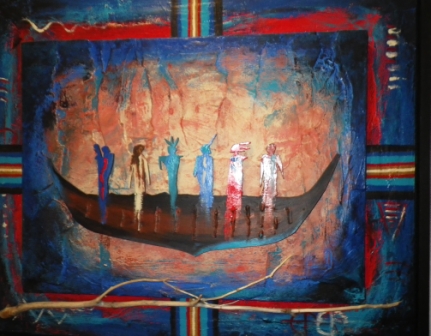 April Mercredi graduated from Red Deer College with a Visual Arts Diploma in 2000. A year later she joined renowned Metis artist Keith Nolan on the podium when he took first place (Spirit Dancers) and Mercredi placed second (Medicine Wheel #1) at the 2001 Peace Hills Trust Annual Art Contest. Two years later the Alberta Foundation of the Arts purchased one of Mercredi's favourite creations, The Dancer.
Dedicating herself to her artistic aspirations has given Mercredi a new lease on life, an "opportunity to give something back to the people and the communities" who made it possible for her "to work in a positive way," though often in a pessimistic and negative atmosphere. Mercredi is a life skills coach who has worked within numerous community, organizational and institutional settings. She's worked with the young, the old and the in-between. She's worked with the Native Women's Association, the Canadian Native Friendship Centres and with various Corrections Canada and Alberta facilities. Born in Calgary and brought up in and around Rocky Mountain House, Mercredi has spent much of her life working in the Northwest Territories.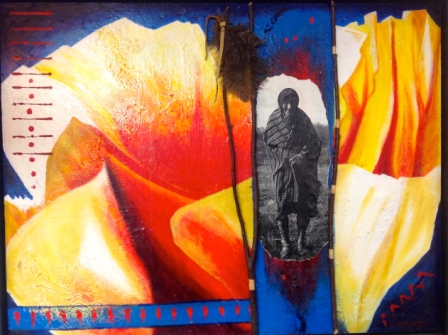 As a mixed media artist, Mercredi often incorporates such things as sticks, rocks and feathers into her artwork and is always exploring new elements, new ideas and new theories that she can integrate into her work.
Mercredi's Talking Stick Art comes from the methods she used when talking to others about the important contributions of Aboriginal peoples and their cultures, when instilling pride and helping others to improve their self-esteem, their lifestyles and their overall well-being.
"I started to work with a feather, but the emotional atmosphere saw that break down in a hurry because it would be handled a lot and the feather, like the rock and the stick, are both symbolic of Aboriginal heritage," she explained. "I was thinking about using a rock, but one day when I was out walking near a beaver pond I came across a beautiful stick, a Talking Stick, and decided to incorporate that. The stick is just a symbol, but it is an important one and one that I incorporate into much of my work."
April Mercredi's work is currently on display at Roots-on-Whyte in Edmonton and at the Candler Art Gallery in Camrose and Moonstone Creation in Calgary. Over the years her work has also been showcased at the Westlands Gallery in Cochrane, the Bearclaw Gallery in Edmonton and the Caelin Art Gallery in the artist's home community of Wetaskiwin.
For more information contact April at [email protected] or (1) 780- 352-9331. Check out the website at aprilmercredi.com.
by John Copley