by John Copley
(ANNews) – An opportunity of a lifetime awaits 16 female undergraduate students currently attending a post-secondary institution in Alberta or the Northwest Territories. The opportunity comes via a unique initiative being organized and administered by Cindy Shaw and Catherine McNalty, coordinators of a program known as SINEWS, a grant and mentorship initiative that is supporting eight pairs of female college or university students interested in working on projects relevant to Natural Resources Canada's (NRCan) research mandates. Each pair is made up of one Indigenous and one non-Indigenous female student.
The intent of the SINEWS project, also called: Sistering Indigenous & Western Science, is to give women in science and technology the opportunity to develop scientific leadership and teamwork skills, develop a professional network, and to foster positive relationships between Indigenous and non-Indigenous women and their communities.
Shaw is a research scientist who has been working with the Canadian Forest Service for the past two decades while McNalty is a 14 year veteran with Natural Resources Canada. Shaw works with a large team of scientists who developed a computer model that calculates the amount of carbon in Canada's forests to determine how the forests contribute to overall greenhouse gas emissions. McNalty is a tree-ring technician who works closely with the national forest inventory as they gather tree cores from across the country to measure such things as age, productivity, fire history and drought and insect defoliation.
SINEWS is a bursary and mentoring program that aims to support women who are currently enrolled in post-secondary institutions in the 2018-19 school year. Awards will be given to eight pairs of women, one in each pair must identify as Indigenous, while the other as non-Indigenous, to complete a summer research project in a topic that supports Indigenous interests, and also supports the research conducted at Natural Resources Canada.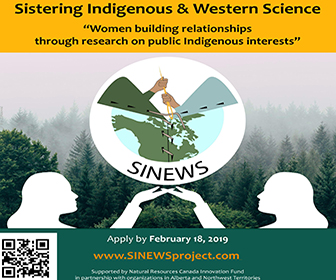 Students are encouraged to apply as a self-identified pair; however, interested individuals can go to the SINEWS website to "Look for a Partner" or apply as an individual to be matched with a partner by the SINEWS team. Students will have a mentor for their project. They may identify a potential mentor in the application form or SINEWS will find a mentor for each pair of students. Student pairs will be required to share the results of their project in some form of output (written report, multimedia, etc.) at the close of the summer term. Mentors for student pairs will be located at various institutions in Alberta and the Northwest Territories.
"To apply for the SINEWS Program," explained Shaw, "students are required to submit a completed application form and a recent copy of transcripts from their current post-secondary institution or other proof of enrolment. Students may also submit an optional letter of support from a mentor, professor, former employer or community member that is familiar with the student's character or achievements (note that family members are not eligible to write support letters). Complete applications should be submitted via email to: [email protected] at or before 12:00 AM (MST) February 18, 2019."
Applications submitted after the deadline has passed will not be considered.
To be eligible for an award students must be Canadian citizens or a permanent resident of Canada as of February 18, 2019; identify as female (including Two-Spirit, non-binary and cis and trans women); be registered (full time or part time), as of February 18, 2019 in a degree or diploma program at any eligible post-secondary institution;
"To qualify for an award," noted McNalty, "students must have completed all the course requirements of at least the first year of post-secondary study (or two academic terms) of your degree or diploma; have been registered in at least one of the last two terms immediately before holding the award in a program at an eligible post-secondary institute; not have started a program of graduate studies at any time; accept the award by April 5, 2019 and be engaged on a full-time basis in research and development activities of your project during the tenure of the award."
Candidates will be chosen by a selection committee that includes NRCan and post-secondary scientists, and an Elder-in-Residence. Applicants will be selected based on how well their applications meet the evaluation criteria.
Bursary awards designed to provide personal support to the participants have a value of $12,000 (per student), however, students whose work is located in the Northwest Territories will receive an additional northern allowance.
Launch week training and orientation, including transportation to and from the event in Edmonton, Alberta, as well as housing and food during orientation, will be provided. Students are responsible for their own living expenses during the tenure of the award, which take place from May 31 to August 31, 2019.
More information is available online and by mail.General inquiries can be directed to: [email protected]
Project ideas must be resource based and can include such areas as: Forestry (e.g., forest fire, forest restoration and land reclamation); Energy research (e.g. bioenergy); Oil sands research (e.g. resource extraction, upgrading); Reclamation and tailings (e.g. water management, emissions reduction); GIS (e.g. mapping, data creation, web data creation); Property rights and boundary issues, including water boundaries; Capacity building (e.g. onsite training for First Nations communities on matters related to land management, surveys and mapping); First Nations Land Management (under the First Nations Land Management Act); Land surveying and others.
Other resource sector projects could include a broad range of topics that involve such areas as mining, oil and gas and energy. Qualifying project ideas could include, among other important areas of research: Historic study of the role of Indigenous firefighters in wildfire management; Social science study on Indigenous cultural burning practices; Participatory wildfire management planning with an Indigenous community; Social science case study with an Indigenous community that's been evacuated by a wildfire; Historic study of Indigenous burning practices using early explorer accounts; Assessing the trade-offs of Indigenous and Western land use values on forest carbon emissions; Mapping of flora and fauna used for traditional and/or medicinal purposes.
"This is a unique opportunity and one that can lead to a very rewarding career in the resource sector," assured Shaw. "The primary goal of this initiative is to provide women at the undergraduate level with possible career opportunities for mentoring and networking in their professions and to go through the process of creating an idea, managing a small budget, taking the project through to completion and developing professional networks that will give them more opportunities in the future. A major part of the project is the mentoring. We will have an Elder-in-Residence and Indigenous staff who will help them develop their ideas and their projects."
The second goal, noted Shaw, "and one that is of particular importance to me is to have Indigenous and non-Indigenous people working together and to have the cultural exchange that allows you to learn more about one another and about one another's culture. We want to bring traditional knowledge to the project – western science in combination with Indigenous knowledge and traditional ways of observing changes in the landscape. It's really important that the project is driven by public Indigenous interests; the idea is for western science to incorporate and utilize Indigenous knowledge. These girls have an opportunity to create a project within their home communities. This would be beneficial because by doing so they will incur fewer expenses and perhaps develop a viable project that can be utilized within their own communities. We hope that these projects will be filled with innovative ideas, viable concepts and new ways of doing things."
Once the eight teams have been developed, they'll get together for a few days of training, sharing their projects ideas and working together with the Elder-in-Residence. Cultural training is an important part of the project.
"The training," explained McNalty, "will also help the girls with the management of their projects and will include communications, tools for creating videos and other important elements of the individual projects; at the end of the program we will come together again to share the outcomes of the projects and what was learned while working on the projects. We are also hoping to be able to secure the funds needed to allow the girls to return to their respective communities where they can also share their projects with their peers and community members."
Output formats that can be used by the students to introduce their summer work include but are not limited to: Audio files (e.g. podcasts, audio documentary, music); Video files and visual works (e.g. documentaries, time-lapses, film, info graphics, art projects, posters); Web applications; Social Media (e.g. Facebook or Instagram feed); Written works (e.g. reports, stories) and Educational tools (e.g. poster, how-to-guide, video.)
The project takes place from May 31 through August 31; the eight teams will be funded for the project to the tune of $12,000 (per person) plus an additional $5,000 (per team) that will be used to help support their project work.
"For the participants in the project, the $12,000 represents the income they'd likely generate during a working summer because this is in essence, a summer job with goals and objectives that offer a viable opportunity for the girls to work, learn, and network with mentors and others in the resource sector. The only difference is that they will get the money as a bursary so it will all come at once."
Though there is some flexibility in the application process, applications will be assessed against the following criteria: eligibility for the program; relevance of the project to public Indigenous interests; potential to build relationships and create connections between cultures; feasibility and ingenuity of project idea; clear communication of project, and communication of a distinct project objective; relevance to NRCan research mandates; applicant's statement of interest and demonstrated enthusiasm.
"We do have a fair amount of flexibility in this project," noted Shaw, who said the best ways for would-be applicants to learn more about the initiative would be to check out the website."
In the meantime both Shaw and McNalty are meeting with students in various post secondary institutions across the province.
"We can't get out to everyone but so far we've been to Keyano College. NAIT, SAIT, Grand Prairie Regional College and others are on our schedule," explained McNalty. "We are also utilizing various types of social media, including a Face Book page with lots of information available."
Click here to learn more about NRCAN or to receive clarification if help is needed to fit your idea into one of the areas mentioned in this article, or email [email protected].
Apply now!