(ANNews) – Like so many high school students, Caleb Alexander was unsure what he wanted to do with his life. He knew he liked working with his hands and enjoyed science classes, but that only led to more questions:  What careers fit his interests? Would he be able to make a good living? How could he make it happen?  There just didn't seem to be a clear path forward.
Caleb was attending Grade 10 at Holy Trinity high school in Fort McMurray when his future began taking shape.  He was introduced to a non-profit organization called CAREERS: The Next Generation. Team members work with schools across Alberta to connect students to employers for paid internships.  Students have the opportunity to fast track their training in a skilled trade through the Registered Apprenticeship Program, or get hands-on experience in many different occupations through the Indigenous Youth Internship Program. CAREERS helped Caleb learn about different options that fit his interests and lifestyle. Instrumentation and Controls Technician jumped out at him, so he decided to take advantage of the opportunity and give it a try. CAREERS matched him with an employer, helped him with his resume, prepared him for the job interview, and before he knew it, he was starting his first day as an apprentice at Syncrude Canada.
"It was a little bit daunting when I went to my safety orientation," explained Caleb. "It was just me, a 16-year-old, in a room full of adults."
It didn't take Caleb long to feel respected and part of the team.  He also discovered a passion for what he was doing.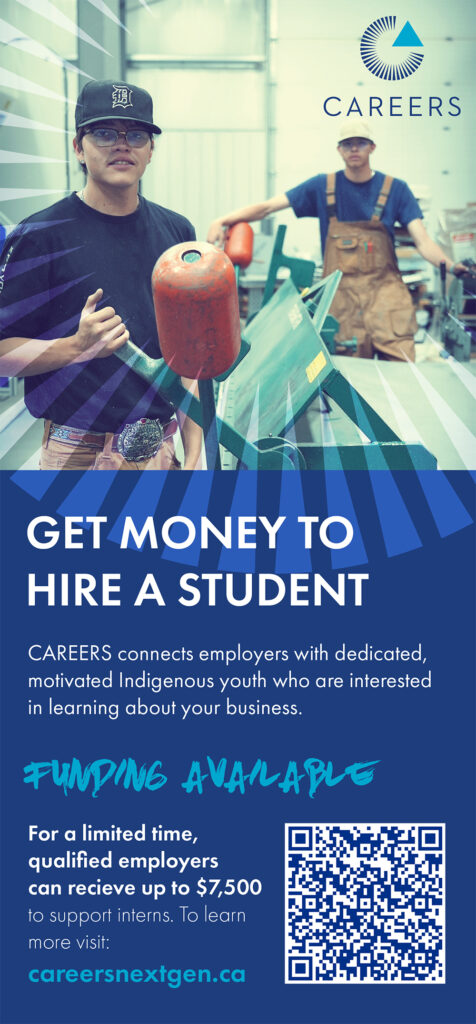 "Not only was I making money, I was also earning credits and fast tracking my training towards something I love," he explained. "Juggling high school with an apprenticeship wasn't always easy, but it was worth it. I was able to push through because I had a goal and a future I was excited about."
Syncrude is one of many Alberta companies that believes in supporting youth through CAREERS: The Next Generation. "Indigenous youth like Caleb are a vital resource for employers like Syncrude, operated by Suncor," said Jerry McPherson, Vice President, Projects & Regional Synergies, Syncrude, operated by Suncor.
"Like everyone else, they just need opportunities to develop their skills and abilities. Syncrude supports the Indigenous Youth Career Pathways program because it is helping us build our future workforce with people who have the skills we need and want to contribute to our success. By every measure, it continues to be an excellent investment."
"When you provide meaningful employment for Indigenous youth, you are increasing their confidence and skills, which lays the foundation for success and ripples through their communities," added Rebecca Kragnes, Indigenous Business Relations, Bird Construction.
Over the next two years, Caleb continued to gain experience and hours towards his apprenticeship. Now, at 21-years-old, he's already become a certified journeyperson.
"My advice to high school students is, you've got nothing to lose. Just pick something that interests you and give it a try. If I can do it, so can you."
Whether you're a student like Caleb, a parent helping a child navigate their future, or an employer looking to grow your workforce from the ground up, CAREERS: The Next Generation is an excellent resource to get you started. And right now, qualified employers can get up to $7,500 to help cover the costs.  Go to CAREERSnextgen.ca.